For more than a decade, North America and beyond has been experiencing a fiber boom. A boom which has never been more crucial or relevant than it is today as the world continues to embrace the growing work-from-home lifestyle. And, while instantaneous, high-speed internet used to be considered more of a convenience, it has quickly become a necessity for life.
Due to this growing trend, fiber installation continues to rapidly expand and, for the utility industry, this ever-increasing demand is putting a strain on the workforce and requiring more contractors on more jobsites. While every job brings its own unique challenges and obstacles, installing across rough soil and rural terrain pits contactors against the most unpredictable variable yet: Mother Nature.
Rough Landscape Calls For The Right Machine
Although your equipment size will vary depending on whether you're working on a long-haul project or doing backbone work closer to a city, finding the right machine for your rough and rural job will largely depend on what soil conditions you are up against.
Since a long-haul jobsite tends to have few surface and underground obstructions, most contractors prefer plows. This method is often the fastest and most efficient way for placing long-haul conduit in the ground in varied terrain. To improve maneuverability on level and uneven terrains, the Ditch Witch RT125 quad with a plow attachment benefits from a quad-track ground drive system and is available with optional reel carrier attachments to hold conduit.
Long-haul jobsites that include rough terrain, wooded areas, water crossings or other areas where plows cannot operate are best suited for directional drills. These can help you meet your project's timeline by providing the capability to bore under obstacles. In tough soil conditions or rock, Ditch Witch All Terrain (AT) technology is specifically designed for drilling with precision, control and efficiency in solid rock, fractured rock or other hard, underground conditions.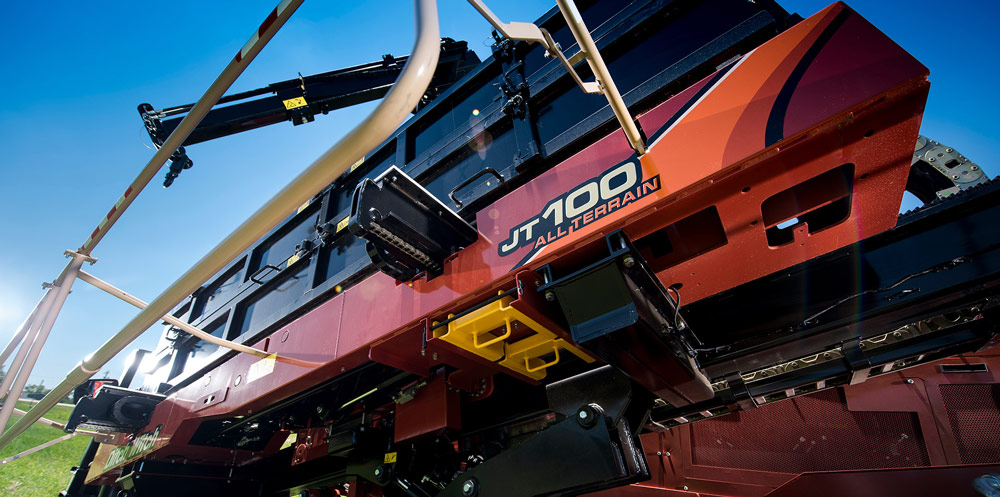 If you're looking for comfort and ease of use along with that All Terrain power, Ditch Witch recently released the AT32 All Terrain directional drill, which boasts 32,000 pounds of push and pull to power through hard ground conditions. While this drill has the footprint to operate in urban areas as well as rural jobsites, the bigger and more powerful AT40, AT60 and AT100 horizontal directional drills pack major punch for long-haul installation.
Tough Terrain Needs The Proper Tooling
The right drill tooling can maximize production and keep a drilling system running longer. Choosing the right tooling for your job is dependent on multiple factors, including the size of your rig or the type of product you're running, but one of the most important determinants is the soil conditions you're up against.
Working in hard or rocky conditions presents its own challenges on fiber installation projects. For example, drill bits wear down more easily in hard conditions. Bits with a hard surface, such as carbide, are the best solution as they last longer than other bit styles and can more effectively bore through hard soil or rock. You should also look for a bit that can be easily replaced, so the inevitable replacements don't compromise your schedule. The Ditch Witch Tuff bit, Steep Taper Tuff bit and TriHawk bit are designed specifically for hard soils. If you're working in hard rock conditions, then Rockmaster rotary bits, designed specifically to work with all-terrain drills, are a great choice. Selecting a bit that can navigate difficult conditions will assist in steering through the conditions and will improve overall productivity.
Whether you're tackling your first fiber job or you're gearing up for a long-haul install through rough landscape and wooded areas, these two easy-to-remember fiber basics will keep you productive no matter the terrain challenge ahead.